Available IGs in Nebraska, Iowa, and South Dakota
These Italian Greyhounds are available for adoption in Nebraska, Iowa, and South Dakota with IGCA Rescue.
Please submit an adoption application if you would like to be first on our list of potential adopters. Sometimes dogs don't make it to our available list because we had the perfect approved adopter waiting for a dog.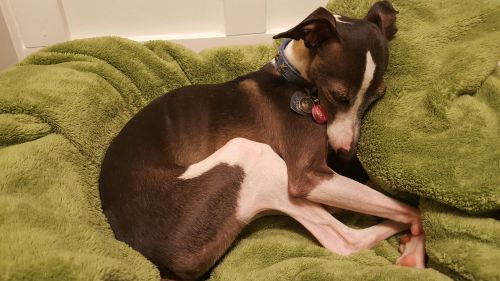 Italian Greyhound
Spayed/Neutered
Up-to-date with routine shots
Three year old Joey is a very loving and energetic boy. He is in rescue due to the death of his owner. He loves his foster mom and gives lots of kisses and loves to cuddle and sleep next to her. He is gorgeous and tiny at 9 pounds and has a soft coat. He is a good eater and sleeps through the night for his foster mom. He LOVES his toys and will play fetch for as long as you throw it for him. He also shakes his toys and growls at them – it is adorable. The first 48 hours in his foster's home, he was quiet and very shy and needed to be left alone in his own space but soon overcame that and now runs around like he owns the place. He will need a patient and loving person to work through this adjustment period. He uses potty pads during the day when his foster mom is at work but does his business outside very well when she is home and lets him out. Like most IGs, he does not like the rain or cold. He needs a tall, secure fence with no gaps or holes as he can jump and would be a flight risk, so caution needed near open doors that do not lead to a fenced yard. We do a home visit as part of our adoption process. Joey tends to be a barker, especially when playing, so no apartments or homes with shared walls. He does need someone who is willing to work with him using postitive reinforcemnt to work on his barking behaviors. He is noiser than most IGs. He has a history of not getting along with other dogs and also does not like his foster brother, another larger IG, so he would be happier being the only dog so he could have his human all to himself so he doesn't have to share affection. He displays fearful and nervous behaviors with children, other dogs, cats and men. His fear of men probably will resolve with time and patience as his previous owner was a man. He would be happiest with someone who is home more than not so he can get lots of snuggling and playtime in during the day! That being said, Joey is a wonderful dog and would bring joy to any dog mom. He steals your heart when he looks at you with those big beautiful eyes and lays his head on your neck. What a sweetie! He is neutered, just had a dental, heartworm negative and on HW preventative, and up to date on vaccinations. He is looking for a special, specific home that will be a great match for his needs and personality. He is fostering in Des Moines IA. WE RESPOND TO ALL INQUIRIES. IF YOU DON'T HEAR BACK FROM US WITHIN 48 HOURS, PLEASE EMAIL US DIRECTLY AT: neigrescue@gmail.com. Petfinder has had some issues with their emails to us. Please visit us at midwestigrescue.com to learn more about the adoption process and to fill out an application. We do require an adoption donation fee to help us cover the cost of vetting while they are in our care. This fee varies depending on their age. Our applicaton process consists of a completed application, vet and two personal reference checks and home visit. We do require that your resident pets be spayed or neutered and have necessary veterinary care provided as well as wellness visits. Our dogs are available for adoption in Nebraska and Iowa and South Dakota and will be considered for adoption to surrounding states. We DO NOT transport or ship dogs. You would be responsible for picking up from foster home. If you are in a state other than NE, IA, SD, you will need to work with your state's IGCA representative in order to get your application processed and approved before being considered. Please use the website igrescue.com to find your state's affilate and rescue representative. Thank you for your understanding!
Adult, Male, Small